News

click the instagram icon to follow my art account
2023 
Marloe Gallery will be exhibiting my work in the Seattle Art Fair from July 27-30th, Lumen Field Event Center, Booth C08
2022
I'll be showing new pieces with Marloe Gallery, booth F-15 at Art Market San Francisco. April 21-24th, Fort Mason Center, San Francisco.
I'm thrilled that Colleen O'Brien has chosen Chambers as the cover image for All Roads, a collection of short stories published by Northwestern University Press. The collection is out now. It can be ordered here or from your local bookseller.
2021
I'm excited to have work in the 2021 edition of Art on Paper at Pier 36 in New York with Marloe Gallery, Sept 9-12
My collages will be on exhibit with Marloe Gallery at Market Art + Design in the Hamptons from Aug 12-15.
I'm honored to have participated in Meghan Wilbar's collaborative sketchbook project, now on display at Michael Warren Contemporary Project Space in Denver. I have a collaborative sketchbook and two paintings in the group show accompanying Meghan's solo exhibit that opened last week.
2020
I'm excited to be part of Art on Paper at Pier 36 in New York with Marloe Gallery, March 5-8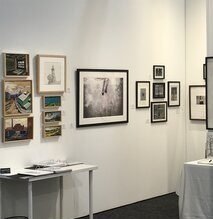 2019
My paintings will travel this fall with Marloe Gallery to the Texas Contemporary Art Fair, and Art Aqua Miami. I am also happy to have my work hang beside with 9 other talented encaustic artists in Wax: Contemporary Methods at the Guenzel Gallery in Fishkill, WI.
I'm thrilled to have work traveling this summer to the Seattle Art Fair, Art Aspen and Market Art +Design in the Hamptons with Marloe Gallery of Brooklyn. Market Art + Design is July 5-7, Art Aspen is July 25-28 and Seattle Art Fair is Aug 1-4.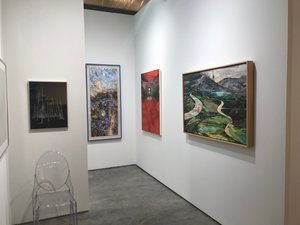 Installation shots of the Marloe Gallery booth at Art Market San Francisco, April 25th-29th. Also pictured, fellow artists Peter Opheim, Katelyn Alain, J. Krause Chapeu.
I'll be showing the facade series with Marloe Gallery, booth 205 at Art Market San Francisco. April 25th-29th, Fort Mason Center, San Francisco
Fall 2018 A big thank you to Hyperallergic writer Alissa Guzman for featuring my work in her article about the 2018 Gowanus Open Studios:
Reality and Artifice Collide at Gowanus Open Studios.
Fall 2017 GoggleWorks Center for the Arts, Space Consciousness, The Work of Zoë Cohen and Margaret Noel, September 2- Oct 15 Reading, PA
2017 Installation of my drawings in the Center for Fine and Performing Arts, Seminole College
2016 8 paintings were featured as the cover and center portfolio of the Fall 2016 issue of The Hopkins Review, a literary and arts journal published by the Johns Hopkins University Press. Link to the portfolio here. 2016 My studio will be open during the 2016 Gowanus Open Studio Tours, October 15th and 16th, noon-6 pm.
~~
July 2015 Seven of my paintings are featured in 180°, an encaustic exhibit at The Curator Gallery at 520 West 23rd Street in Chelsea. The show runs from July 15- August 14
—
July-August 2015 I will be exhibiting my work at Gallery 51 in North Adams, Massachusetts this summer with the sculptor Rocco Scary. The show will open on Thursday, July 30th and run through August 23rd. Opening reception Thursday, July 30th, 6-9 pm
—
Nov. 19, 2014 Two nice recognitions for the DAC exhibit: an article in Friday's entertainment section of the Durham Herald Sun and a recommended pick from Durham's weekly newspaper, Indyweek.
~~
Nov. 10, 2014 An installation shot of Copper: Industrial Landscapes by Margaret Noel currently on display at the Durham Arts Center through December 27, 2014. The exhibition features copperpoint drawings and encaustic paintings of landscapes altered by copper mining.
—
Nov 7, 2014 My exhibit opens today at the Durham Arts Council. The exhibition is on display in the DAC's Semans Gallery through Dec. 27th.
—
July 9, 2014 Abigail Clark of the BRIC Brooklyn Contemporary Art Center included my work in her curated short list of six Brooklyn artists who study and portray urban industrial landscape. Clark writes: "From afar, Margaret Noel's mixed media collages could be abstract works, but a closer look reveals a layered process that begins with an observational drawing of an industrial landscape. Often architectural in their nature, Noel intends for her works to be abstract enough to remind viewers of forgotten places in their memory. The materials and processes the artist uses bring a unique effect to these portrayals of urban landscape, focusing our attention to the blocks of color that compose these scenes."
—
June 27, 2014 Nice shout out from the New Criterion for the opening tonight of the Life on Mars invitational summer exhibition. Eight Openings You Should Go to Instead of Koons
—
June 20, 2014 My mixed media encaustic and collage painting, New Construction, will be included in the Life on Mars Gallery's invitational exhibit, Never mind the Bollocks – Summer Invitational. The exhibit runs from June 27 – Aug 10 in Bushwick, Brooklyn.
—
April 4, 2014 The Ulrich Museum of Art in Wichita has installed one of my collages in a glass box on the side of the museum as a site-specific interactive public art piece while the museum's Joan Miró mural is being cleaned. The piece can be viewed through a telescopic viewfinder from across the street.
—
April, 2014 I was one of a small number of PA state faculty to receive funding for my research this year through a Pennsylvania State (PASSHE) Professional Development Grant. The grant will partially fund a sabbatical research trip to Butte, Montana to complete plein air copperpoint drawings of landscapes shaped by copper mining.
—